Photo Credit To A disturbing Neo-Nazi culture in East Asia, Indonesia and Thailand is being swept under the rug By Kenny Anthony
The anti-Blackness in Asian communities, specifically among East Asian groups, is an indisputable and irrefutable reality. A reality which has resulted in Black children (Latasha Harlins), being murdered by Korean store owners, Asian police officers such as Daniel Holtzclaw raping dozens of Black women, and Black men (Akai Gurley) gunned down with impunity by a Chinese-American in law enforcement.
The outright disrespect for Black people exists in all forms of Asian media with no restrictions. A company by the name of Shanghai Leishang Cosmetics, made an openly anti-Black commercial which caused controversy on social media.
In short, the commercial featured a Chinese woman being approached by a Black man attempting to take her out on a date. The woman then threw the Black man into a washing-machine, and once she felt like he was "clean", she took him out and he transformed into an Asian man. Another example of blatant anti-Blackness in East Asia would be the anti-Obama piece written by the Korean Central News Agency. Here's a statement from the report: "It would be perfect for Obama to live with a group of monkeys in the world's largest African natural zoo and lick for bread crumb thrown by spectators".
To add even more fuel to the fire, native Asian teens and adults are embracing Hitlerism by throwing Nazi street parades called "Nazi Chic". Many young children take part in these events, which means that adults are not only aware of this movement, but they're funding it too. This growing craze isn't limited to East Asia, it's also happening in sections of Indonesia, Thailand and India. These countries have Neo-Nazi ceremonies, boutiques, entertainment, fast-food designs and Hitler-themed bars.
South Korean girl-band (Pritz), wear armbands which strongly resembles those worn by Nazi soldiers.
Unfortunately, this isn't the first time that racist symbolism has been sported by pop acts in Asia. People were outraged when Japanese girl-band, Keyakizaka46, appeared on stage in Nazi-era inspired outfits. Similarly, Japanese boy-band, Kishidan, committed the exact same offence in 2011, which led to their music label (Sony) making meaningless apologies on both occasions.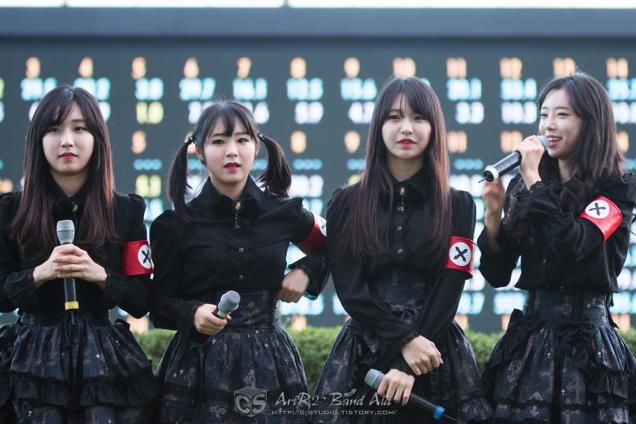 In Indonesia, numerous popstars collaborated to make a music video as a tribute to Prabowo Subianto, who at the time was a presidential candidate.  The video was filled with strong Nazi connotations, and Ahmad Dhani (singer), wore a military costume in the video which was worn by a leading member of the Nazi Party, SS commander Heinrich Himmler. He (Ahmad), didn't seem remorseful when questioned on his choice of clothing, instead, his response to the negative criticism was: "We, the Indonesian people, didn't kill millions of Jewish people, right?". The answer he gave was a complete deflection and weak attempt to normalize his problematic political behavior.
In Bandung, a regency of Bali, Indonesia, a Nazi café recently closed its doors for good.
Indonesian customers at Soldatten Kaffe casually sitting at a table with World War II Nazi Germany gear
The café (Soldatten Kaffe), was forced to close two years after its opening because the owner, Henry Mulyana, received constant death threats due to the offensive Nazi portraits and memorabilia displayed on the walls. The café has now been refurbished and turned into a Karaoke Bar.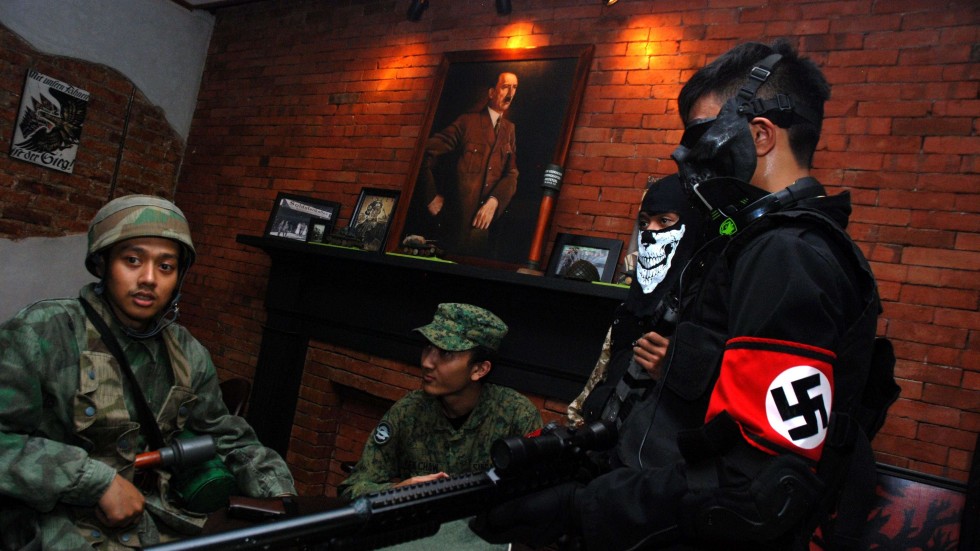 However, an important point that must be mentioned is that Henry Mulyana's excuse in defense of the café was: "It draws a lot of customers from Europe, they are not bothered about the theme". Europe was built on terrorism, exploitation, enslavement, bloodshed and genocide. So, it should not be a surprise that white supremacist euro-tourists find this type of scenery acceptable.
In conclusion, we see that multiple Asian demographics are proudly accepting their honorary white status. Their obsession with Nazi culture, and the fact that many Asian women have been in relationships with open Alt-Right white supremacists such as Richard Spencer, RamZPaul and Andrew Anglin, lets us know that they're on team white supremacy.