Photo Credit To Image captionLibyan has increased the repatriation of Nigerians in recent months
Nigerian migrants stranded in Libya and elsewhere will be bought home, President Muhammadu Buhari has said.
The decision comes after the emergence of footage showing migrants being sold at slave auctions in Libya.
Mr Buhari said they were being treated like goats, and vowed to do everything possible to prevent more Nigerians making the perilous journey to Europe.
The announcement was made hours after Libya's UN-backed authorities said they were increasing repatriation flights.
About 240 Nigerians were voluntarily flown home in a joint operation by Libya and the UN migrant agency on Tuesday night.
The plight of those trapped in Libya – a major hub for migrants attempting to reach Europe – was highlighted by the footage, published by US news network CNN, which shows young men being auctioned for farm work.
The issue of people attempting to enter Europe illegally was already expected to be high on the agenda of this week's African Union-European Union Summit, being held in the Ivorian city of Abidjan.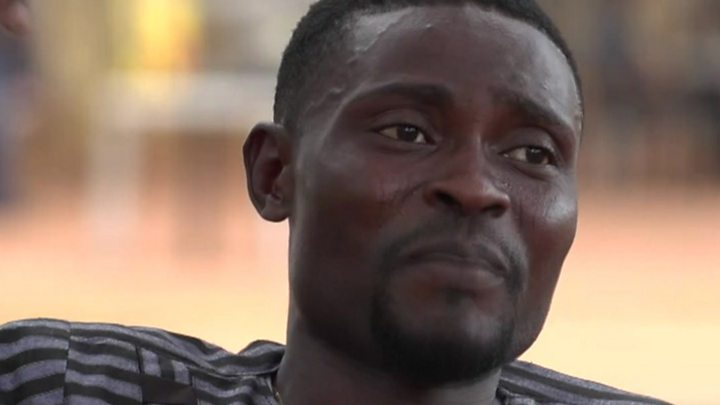 Mr Buhari, who was speaking on the sidelines of the summit, said he was appalled by what he had seen.
"Some Nigerians [in the footage] were being sold like goats for few dollars in Libya," Mr Buhari said during the address to the Nigerian diaspora on Tuesday, before lashing out at Libya.
"After 43 years of [Col Muammar] Gaddafi, why are they recruiting so many people from the Sahel including Nigerians?" he demanded. "All they learned was how to shoot and kill. They didn't learn to be electricians, plumbers or any other trade."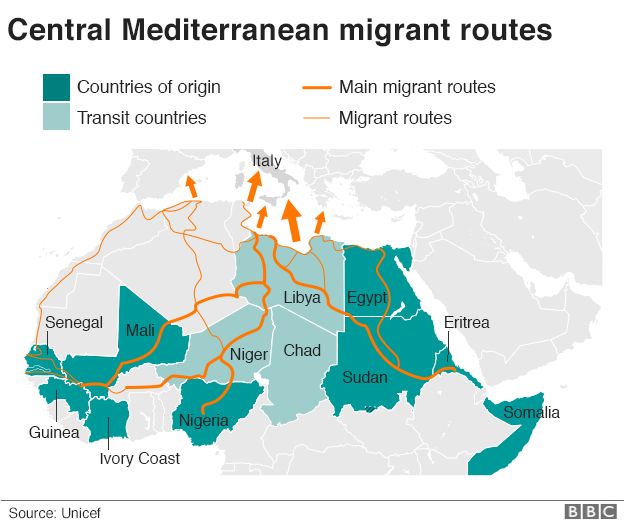 Mr Buhari promised those who returned would be "rehabilitated", and vowed to tackle corruption, defeat groups like Islamist militants Boko Haram and improve things like education to stop Nigerians leaving in the first place.
"For people to cross the Sahara desert and Mediterranean through shanty boats… we will try and keep them at home," he said.
Exactly how the Nigerian government plans to enact the repatriation of its citizens is not clear.
Nigerians 'deceived and lied to in Libya'
As more than 80 heads of governments from Europe and Africa meet to focus on youth issues, 242 Nigerians in that age bracket are trying to settle in back home after being repatriated from Libya late last night.
Nikki Laoye, who witnessed the event at Lagos airport and ran live commentary on her Instagram page, told BBC Pidgin:
They were very happy to come back home. Most were deceived and lied to. I spoke to an electrician, who was told he would get a good job in Europe."
Ms Laoye – who is a popular singer and an ambassador for Nigeria's national commission for refugees, migrants and internally displaced persons – shared videos of the returnees touching the tarmac with relief.
She said they had harrowing tales of their experiences:
It was quite emotional seeing this… Heard about their ordeals through the desert, praying to die; no water to drink; thrown into jail and finally given the option to go back to their country.
All because they were looking for a better life in Italy or Europe."
The agency worked with the International Organization on Migration (IOM) and Nigeria's National Emergency Management Agency (Nema) to repatriate the migrants.
In the last 10 months, 3,480 young Nigerian migrants have been returned from Libya under this arrangement.
President Buhari has promised that all Nigerians stranded in Libya will be repatriated and "rehabilitated" – and reacted angrily to footage of Nigerians "being sold like goats" in slave markets