Photo Credit To Tyres and a bus are set on fire as Odinga supporters and police fight running battles
Five people have been killed in Kenya's capital Nairobi as police broke up crowds of opposition supporters.
At least two of the victims were shot dead, reports said, while others may have been stoned to death by a mob.
Riot police were present but did not use any live rounds, a police spokesman said, blaming the deaths on the crowd.
The supporters of the opposition National Super Alliance (Nasa) had gathered to welcome home its leader, Raila Odinga, from an overseas trip.
On Monday, the Supreme Court is due to rule on the legality of last month's re-run election, won by the incumbent Uhuru Kenyatta with 98% of the vote.
The vote was widely boycotted by the opposition and denounced by Mr Odinga as a sham. He went away on a 10-day speaking tour in Europe and America after withdrawing from the election.
On Friday, Mr Odinga's convoy snaked through Nairobi to avoid security forces who tried to block off routes to public grounds where a rally could convene, the BBC's Tom Oladipo reports from the city.
Demonstrators threw stones in response. A police truck was set on fire. Police spokesman George Kinoti said in a statement that officers had used only teargas and a water cannon.
"No live fire was used," he said. "We are however aware that sections of the mobs accompanying the Nasa convoy, looted property and five persons were killed by stoning in different incidences after having been caught stealing by enraged crowds."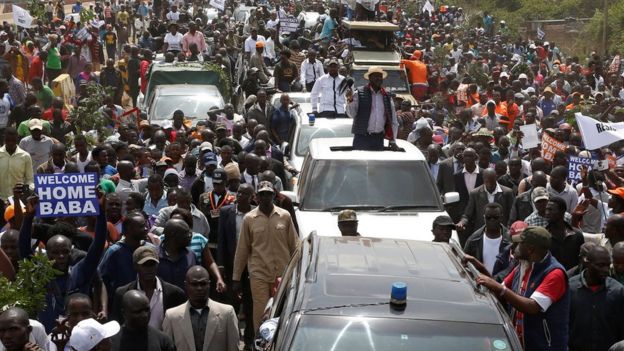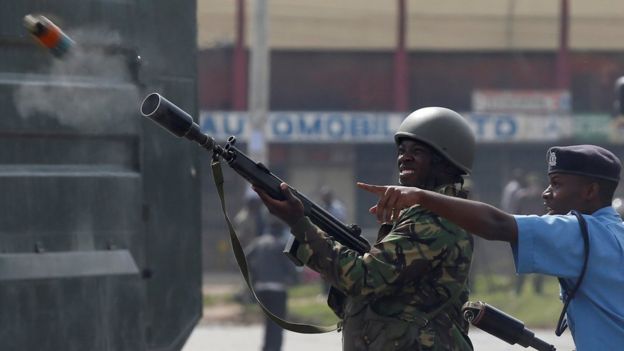 Mr Odinga has called for a "national resistance movement" to "restore democracy" following last month's vote, in which turnout was only 39%.
"Today is the day we are launching Kenya as a third republic," he said from his car on Friday, to cheering supporters.