The US presidential campaign ended on Monday where the fiercest nomination battles began – in the rust belt – as Hillary Clinton and Donald Trump spent the last hours of a bitter election focused on the country's deep economic divide.
Democrats gained a late confidence boost as a final series of national opinion polls confirmed a small but steady lead for Clinton. Early voting numbers point already to record turnout among Latino voters stirred into action by Trump's anti-immigration rhetoric.
Sensing possible danger, the Clinton campaign poured last-minute resources into the industrial midwest, a region where she struggled against a similar anti-establishment surge for Bernie Sanders during the primary election season. Both Clinton and Barack Obama held afternoon rallies in Michigan before planning to finish the night on stage together in Philadelphia with Bruce Springsteen.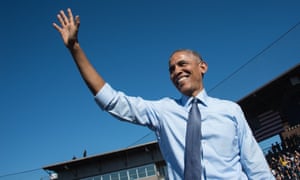 "What's happening is a disgrace," he told his first rally in Florida after the FBI confirmed overnight it would not be changing its decision not to charge Clinton over her private email use. "With what's happening with our justice, our country is a laughing stock all over the world. They're laughing."
"We are going to bring back the jobs and the wealth that have been stolen from you," Trump told a later rally in Raleigh, North Carolina. "We are going to bring back the miners and the factory workers."
Pausing beneath the plane that has carried her through the closing months of a sometimes interminable-feeling campaign, she stopped to show the scene to her two-year-old granddaughter Charlotte via her phone's FaceTime application.
"I wouldn't have worked as hard as I have over 18 months … if I did not believe in my heart that we can do this," she later told supporters in Pittsburgh. "We don't have to accept a dark and divisive vision for America. Tomorrow you can vote for a big-hearted America.
"Our core values are being tested in this election," Clinton added. "I know a lot of people feel frustrated and left behind. There is fear and anger in our country, but anger is not a plan. We have got to start talking to each other again."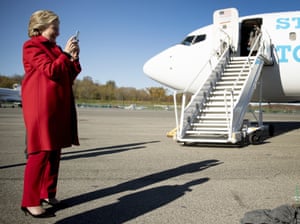 Amid continued Democratic rancour over the late role of the FBI and Trump's threat to refuse to recognise an election result he claims may be "rigged", it will a tough battle whoever wins.
"I think I have some work to do to bring the country together as I've been saying in these speeches in the last few days," Clinton acknowledged to reporters on her plane. "These splits, these divides that have been not only exposed but exacerbated by the campaign on the other side are ones that we really do have to bring this country together."
Defending his economic record, and a Democratic sponsored bailout for the auto industry, the president reserved his harshest comments for the notion that a wealthy Manhattan property developer was portraying himself a blue-collar champion.
"Don't be bamboozled. Don't fall for the okey-doke," blasted Obama. "I don't think Trump knows any working people apart from the folks who work on his golf course and clean up in his hotel."