Photo Credit To  An asylum seeker's room in Greater Manchester where the ceiling collapsed twice in six months. Photograph: John Grayson
Asylum seekers arriving in the UK are forced to live in "squalid, unsafe, slum housing conditions" and the public is largely unaware of the conditions into which "traumatised people are routinely dumped", charities have said.
The £600m government contract to provide shelter for those seeking sanctuary in the UK goes up for tender next month as calls mount for for urgent reforms.
Another asylum seeker in Greater Manchester told of a sink pedestal that crashed though the ceiling into the area where she was living with her three children. Another in Merseyside shared images of her bedroom after the ceiling had collapsed for the second time in six months.
Charities also told the Guardian that women who had been trafficked had been put in housing with internal and external doors that did not lock securely. "You're talking about people who have potentially been raped, sexually assaulted, tortured, not being able to lock their front door," said Christina Bodenes from MRANG, a Merseyside charity that provides support to women their children seeking asylum. "It's just a completely unacceptable situation."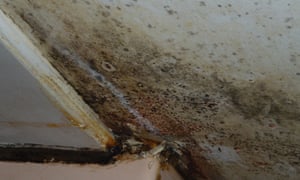 Responsibility for housing people seeking asylum in the UK was taken away from local authorities in 2012 and given to the companies Serco, G4S and Clearsprings, through contracts known as Compass.
The vast majority of asylum seekers are housed by G4S and Serco in the poorest parts of the country where housing is comparatively cheap. G4S holds Compass contracts for the north-east, Yorkshire and the Humber, the Midlands and the east of England, where 45% of the UK's asylum seekers live.
Maurice Wren, the chief executive of the Refugee Council, said: "All too often, people seeking asylum in the UK are forced to live in squalid, unsafe, slum housing conditions, at exorbitant cost to the public purse.
"Though the general public is largely unaware of the appalling conditions into which traumatised people are routinely dumped, ministers and officials are not, yet this scandal continues unchecked. The time has come to end this shameful practice and allow people seeking asylum to live in dignity."
Read More: https://www.theguardian.com/uk-news/2017/oct/27/uk-asylum-seekers-living-in-squalid-unsafe-slum-conditions