Photo Credit To Uhuru Kenyatta waves after his arrival to take oath of office at Kasarani stadium in Nairobi. Photograph: Yasuyoshi Chiba/AFP/Getty Images
Uhuru Kenyatta has been sworn in for a second five-year term as president of Kenya in a colourful ceremony that few believe will signal the end of political instability in the east African country.
Kenyatta, 56, won a rerun presidential election last month boycotted by the opposition, which said it would not be free and fair.
As the president appeared before the 60,000-strong crowd in Nairobi's Kasarani stadium for the inauguration, at least three people were reported killed as police fired rifles and teargas to break up supporters gathered a few miles away to hear Raila Odinga, the main opposition leader.
Odinga, 75, spoke briefly before being forced into a car by volleys of teargas from police. He told the crowd he would be "sworn in as president" by his own supporters later this month and called Kenyatta's government "illegitimate".
Supporters wearing the red and yellow of the ruling Jubilee party, many carrying Kenyan flags, filled the stadium terraces and cheered wildly as the incumbent president was sworn into office and as he received a 21-gun salute.
Thousands of others waited outside. Some overwhelmed police and streamed in. Officers were forced to fire teargas to control them.
"I … do swear … that I will always truly and diligently serve the people of the Republic of Kenya," Kenyatta said with his hand on a Bible that had been used to swear in his father, founding president Jomo Kenyatta, at independence in 1963.
Kenyatta, a US-educated multimillionaire, said the past few months "have been a trying time", and he called for an end to hate and divisiveness.
"The elections are now firmly behind us … I will devote my time and energy to build bridges."
He again criticised the supreme court's nullification of his August election win, saying that "despite … being told that the processes matter more than your vote, we complied."
But he added that the court, whose justices he once called "crooks" for their ruling, acted with independence, and he said recent events showed that "our constitution is no piece of paper". Institutions should not be destroyed whenever they don't deliver the desired results, he added.
The ceremony was attended by heads of state from across east Africa.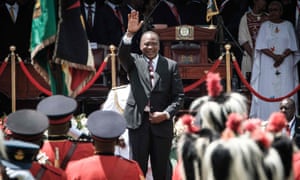 Supporters of Kenyatta said they wanted the opposition to engage in talks and move on. "I'm sure Uhuru will be able to bring people together and unite them so we can all work for the country," said Eunice Jerobon, a trader who travelled overnight from the Rift Valley town of Kapsabet for the inauguration.
The former British colony is a patchwork of dozens of ethnic groups where political competition for resources often exacerbates existing ill-feeling between communities.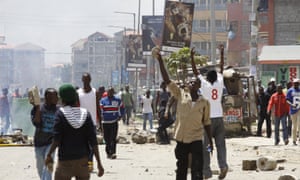 Kenyatta: Embrace 'optimism' and unity
President Uhuru Kenyatta closed his speech by looking ahead to the coming generations, calling Kenya's children "a clean slate on which we can write the future".
He added:
In them I see the promise of a united nation. We shall overcome our ethnic barriers and we shall do so by looking at our children."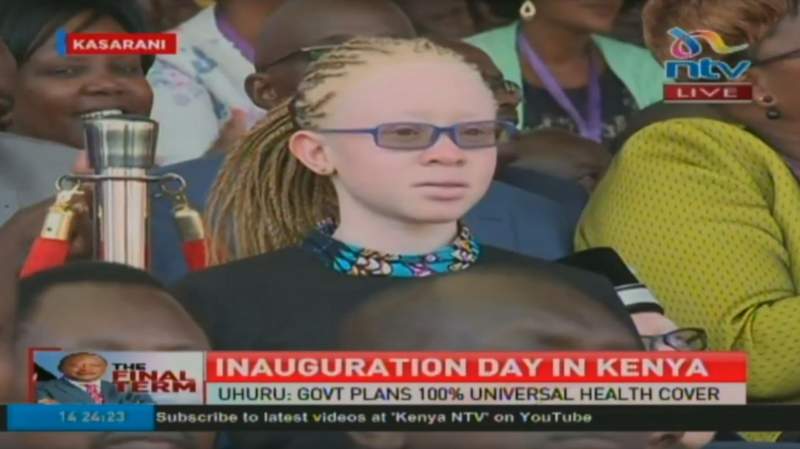 From the stadium audience he then singled out the schoolgirl pictured above, saying:
She overcame her special needs to emerge top of the nation in her exams."
President Uhuru Kenyatta continued by urging Kenyans to reject "negativity" and instead embrace a spirit of unity:
Embrace the power that comes from optimism. No matter your language, where you live, religion, social status – pledge that you will be your brother's keeper.
I ask you today to pledge to reject the politics of division, hate, violence and instead take the higher, more sacred road of working to rebuild your community and our nation."

Uhuru Kenyatta sets out plans for Kenya
Uhuru Kenyatta set out his objectives in his next term as president of Kenya at his inauguration ceremony:
"Strengthen the ties that bind us as Kenyans at every level of our society. It is time for us as a people to learn that it is fine for us to agree to disagree".
100% universal healthcare coverage for all Kenyan households.
Increase access to affordable mortgages.
Boost manufacturing by reducing power tariffs to manufacturers by 50% during daytime.
Kenyatta: We must not destroy our institutions
President Uhuru Kenyatta has used his inauguration speech to address Kenya's disputed elections:
In the last four months we have tested the rules and institutions that we established for ourselves. It has not been easy.
The IEBC [Kenya's electoral commission], our courts, security agencies – all our institutions have been stretched almost to breaking point by the cut and thrust of politics. But they have held.
We have learnt that out institutions are far more resilient than we might have thought before. They needed to be tested for us to discover their strengths and weaknesses.
We can tell the world our constitution is no piece of paper, but our desire to live as one.
There is room for improvement but we should not destroy our institutions every time they do not deliver the outcome we want."
President Uhuru Kenyatta also singled out four achievements he says his government has made previously:
Entrenched devolution – "every county is the centre of the nation, of economic development"
"Aggressive reforms means we are one of the fastest-improving business environments anywhere in the world – from 136th place to 80th"
"New world-class railways – since June 2017 more than half a million Kenyans have travelled between Mombasa and Nairorbi faster, cheaper and safer"
Electricity "has been brought to thousands of schools and homes"
Kenyatta asks Kenyans to let go of grievances
In Uhuru Kenyatta's inauguration as president of Kenya, he has asked Kenyans to "free ourselves from past grievances".
He urged people to stay within the law.
"However serious our grievances may be, the law must reign supreme. The law must be the refuge for every Kenyan and none of us should break outside the law," he said.
As proof that he believes this, he added that when the Supreme Court of Kenya got involved in the last election "despite having won, we complied".
"My administration has demonstrated by its actions its readiness to live and lead by the rule of law. By extension we expect nothing less from each citizen."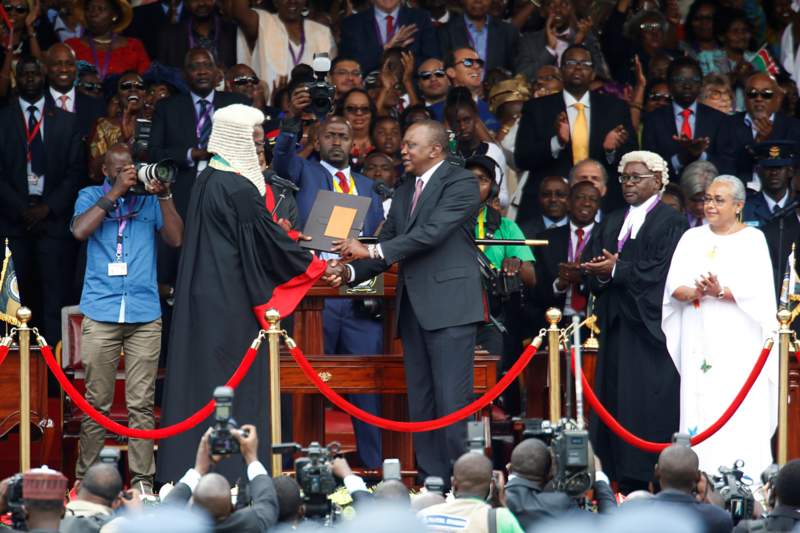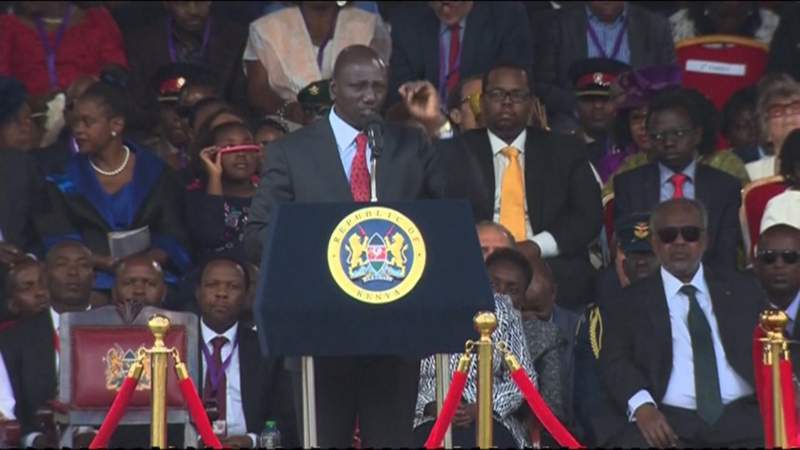 The Deputy President of Kenya William Ruto has asked Kenyans to "say no to hate" and instead unify as a nation.
He was speaking at the inauguration ceremony of Uhuru Kenyatta as president of Kenya.
He said this election was different because people were voting on issues, such as infrastructure and education, rather than identity.
He called this a steady progress towards "mature politics".
He tweeted his final thought:
Scenes from Kenyatta inauguration
Our correspondent Emmanuel Igunza has sent these photos of celebrations inside the Kasarani stadium where President Uhuru Kenyatta has been sworn into office.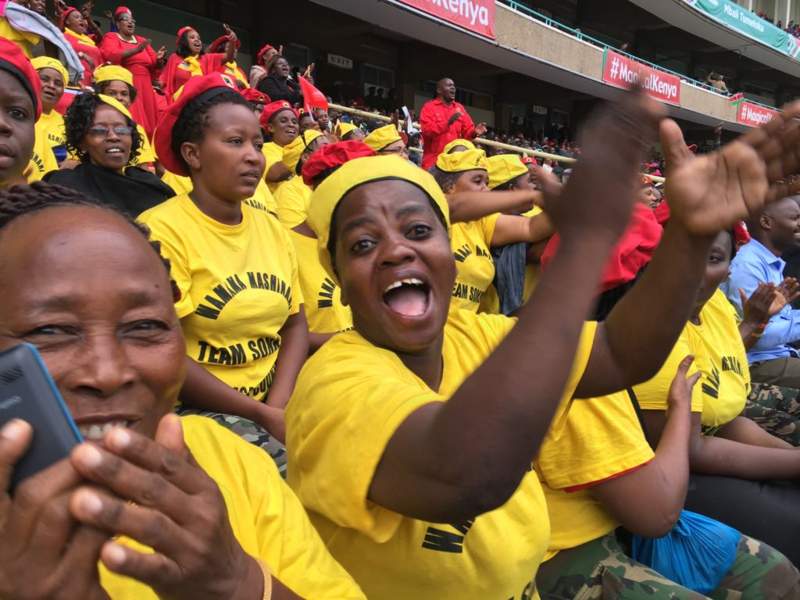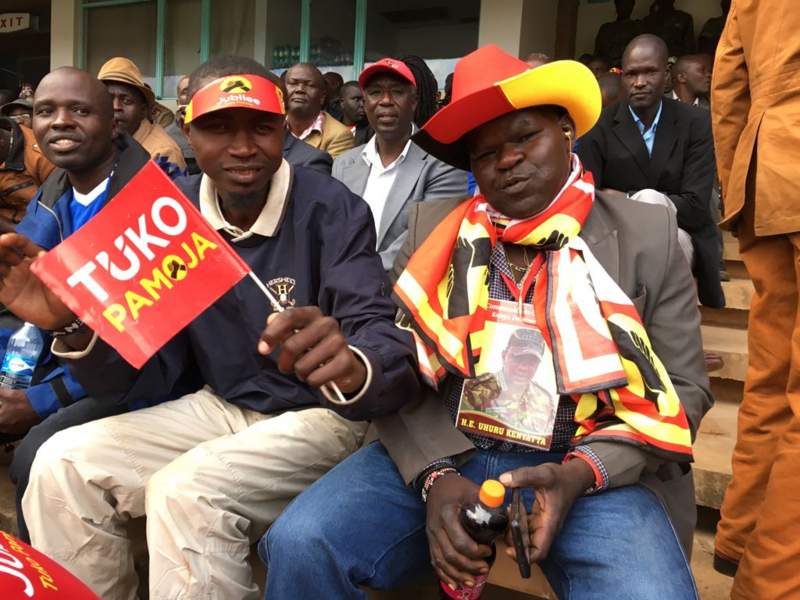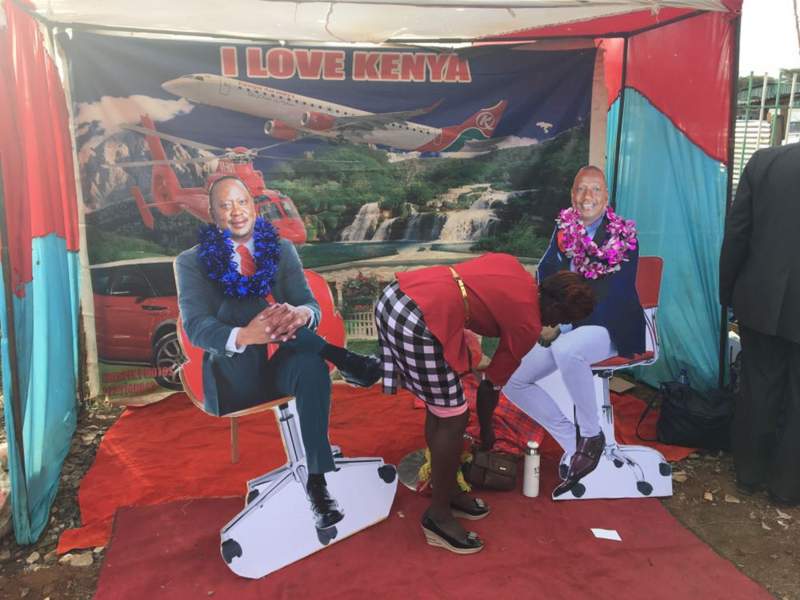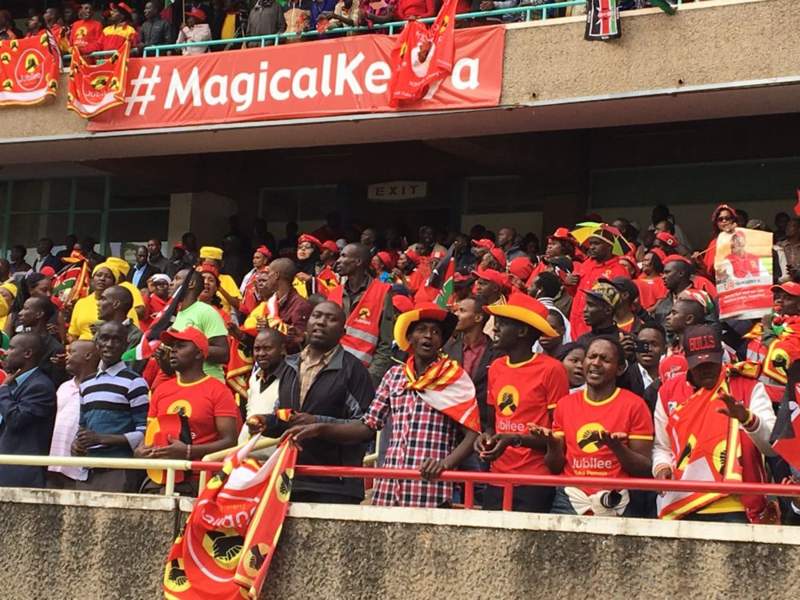 Kenya police clash with opposition in Nairobi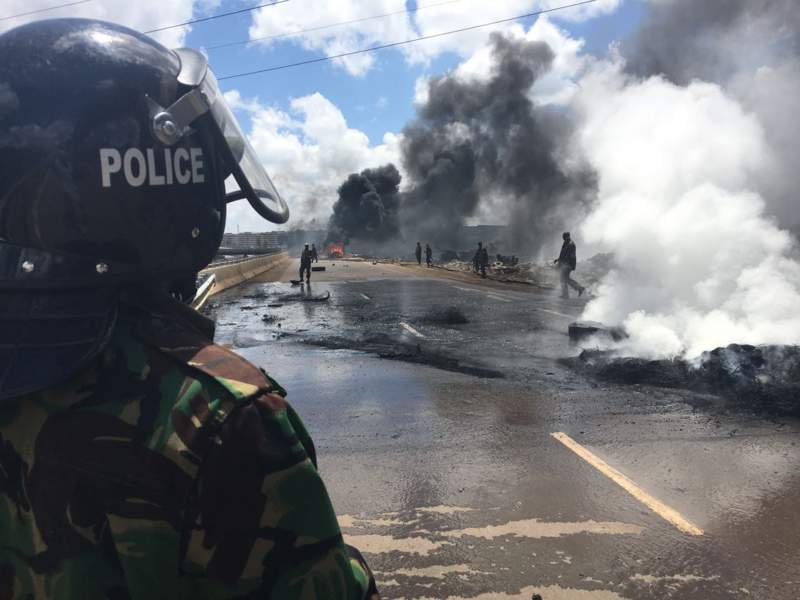 There have been confrontations between police and opposition supporters in the suburb of Doonholm.
Angry protesters lit tyres, barricaded roads and threw rocks at the police and some ruling party supporters.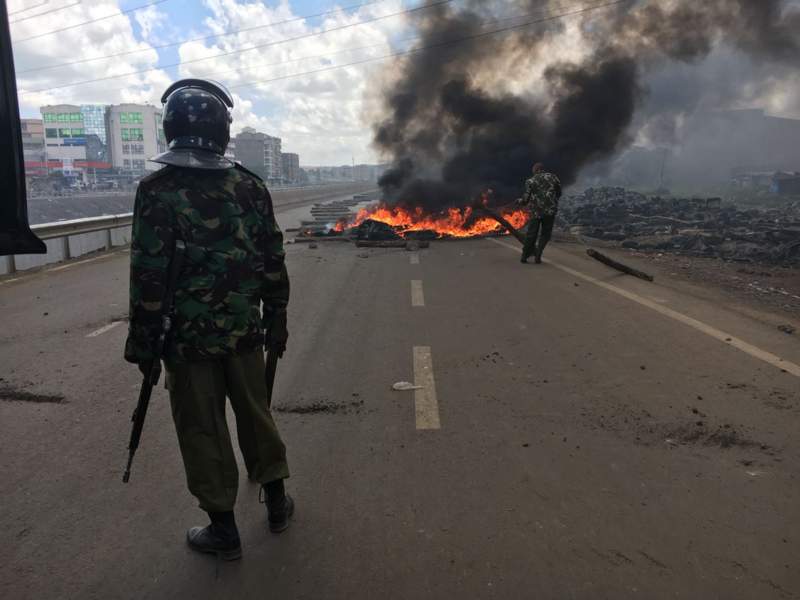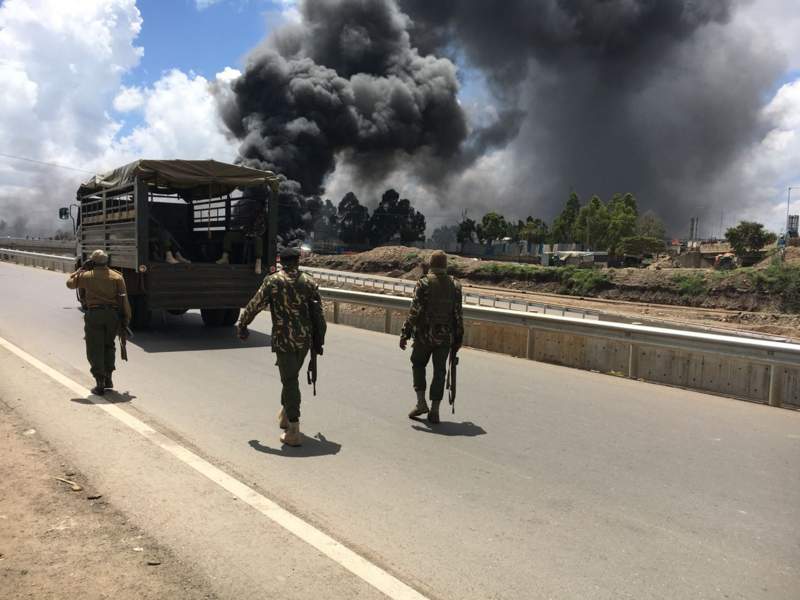 "No Raila, no peace," they shouted as police lobbed tear gas canisters to disperse them.
"We do not recognise Uhuru Kenyatta," one protester holding a sling loaded with a rock told me.
Another protester said he was angry that the police had blocked access to the venue where the opposition had planned to hold a rally.
The opposition leader Raila Odinga told the BBC that they wanted to mourn the death of their supporters who were allegedly killed by police over the past week-and-a-half. The police have denied shooting and killing any opposition supporters.
Thousands watch Kenyatta inauguration
Festivities are under way at Nairobi's Kasarani stadium, for Uhuru Kenyatta's inauguration ceremony today.
Among the 60,000-odd spectators inside the stadium are at least 10 regional heads of state – leaders from Uganda, Ethiopia, Djibouti, Botswana, Somalia, Rwanda, Namibia, Zambia and South Sudan.
Watch the live-streamed event above.
Latest pictures of Kenyatta's inauguration
Here are the latest pictures of the inauguration of Uhuru Kenyatta as the president of Kenya: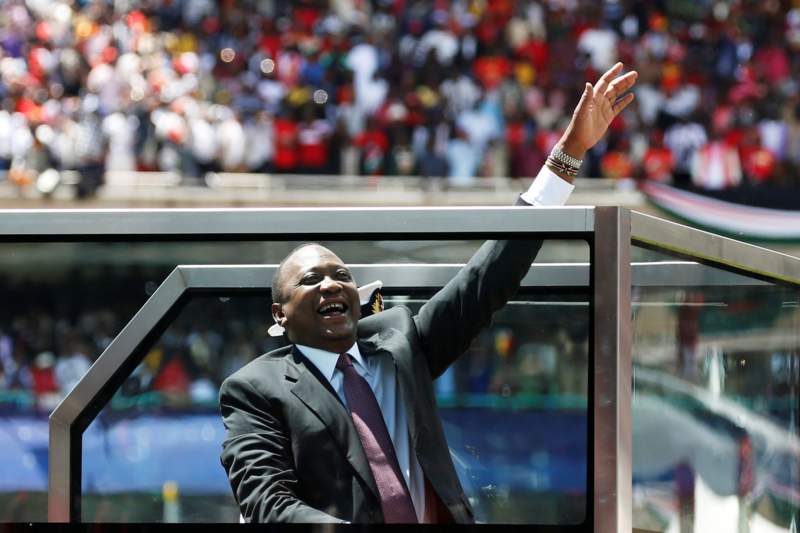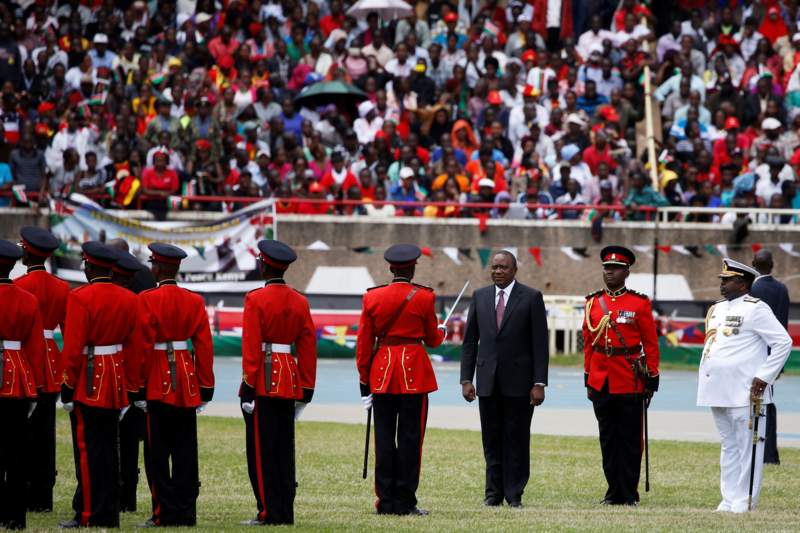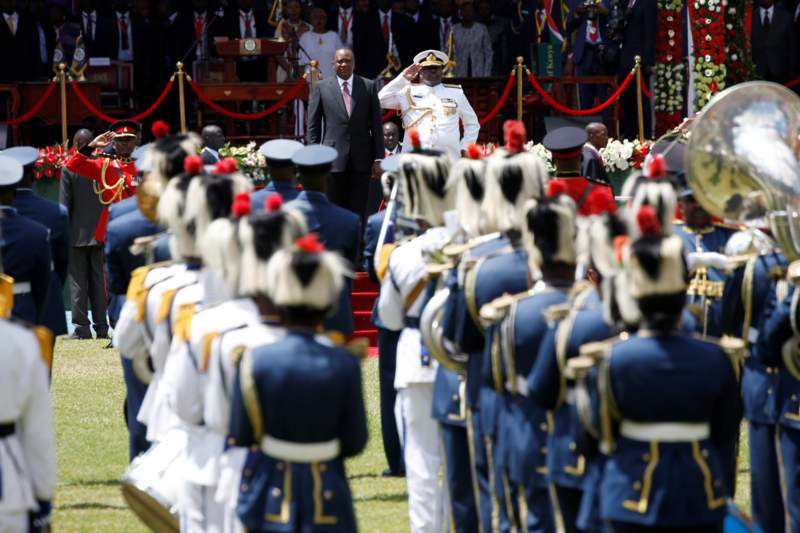 Kenyatta arrives at inauguration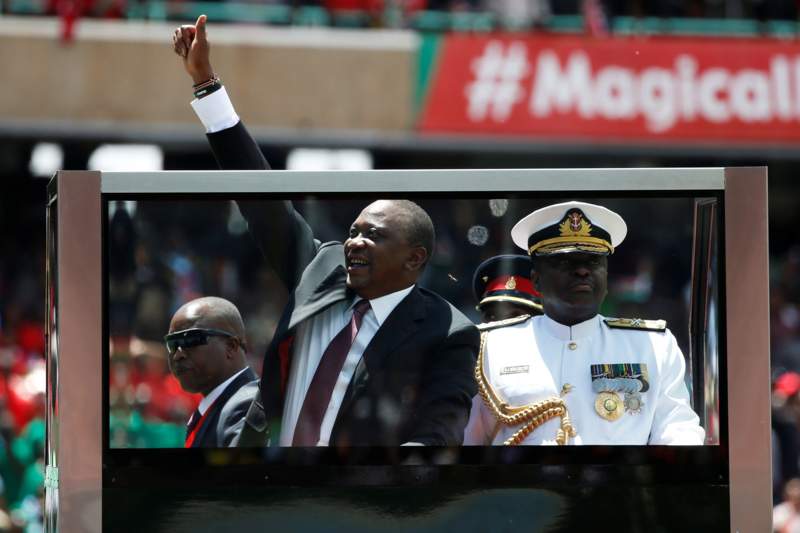 Nairobi's Kasarani stadium is at full capacity – that's about 60,000 people packed inside.
Many are carrying miniature Kenyan flags and those of Uhuru Kenyatta's Jubilee party.
Many showed up before dawn as people jostled for best positions. Thousands more were locked a outside and organisers set up huge screens for those who couldn't get in.
There was a stampede of the gates as thousands overwhelmed police and broke the gates as they forced their way into the stadium.
Inside, people were entertained by singers and several rounds of Mexican waves. The military was also at hand – with the airforce, navy and Kenyan army mounting a colourful guard of honour for President Kenyatta as he entered the stadium a few minutes before noon local time.
At least 10 regional heads of state are in attendance – leaders from Uganda, Ethiopia, Djibouti, Botswana, Somalia, Rwanda, Namibia, Zambia and South Sudan.
'Coronation' cartoon mocks inauguration
The Kenyan cartoonist Gado has commented on the inauguration of President Uhuru Kenyatta:
He has drawn Mr Kenyatta with a crown as a reference to the opposition criticism that this is not an inauguration but a coronation.
Gaddo has previous form for criticising the president. He was also reportedly sacked for drawing a caricature that showed the president tethered to a ball on chain to depict his ICC troubles.
Tear gas and cheering in Kenya ahead of inauguration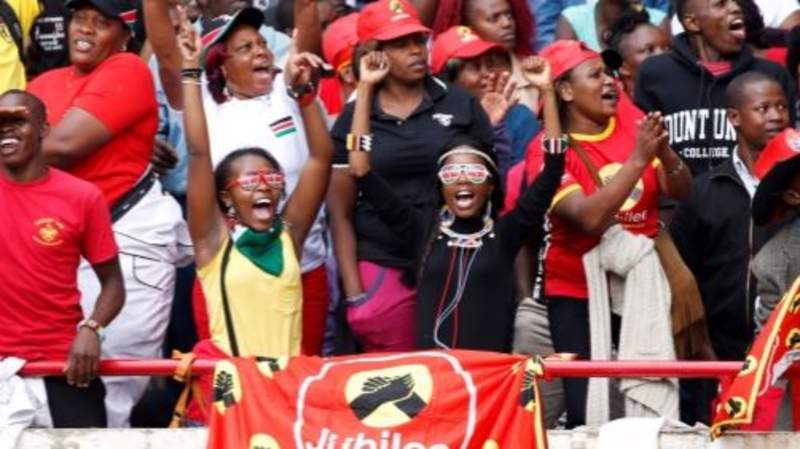 Nairobi is a city divided as it prepares for today's inauguration of President Uhuru Kenyatta.
On one side, people waiting in the stadium – soon to be joined by more than 20 heads of state and senior ministers – are in a jubilant mood.
Outside, it is a different matter. Pictures show police firing tear gas at Mr Kenyatta's supporters, apparently trying to get into the venue.
A little further away, officers are attempting to stop a rally by supporters of Mr Kenyatta's opponent, Raila Odinga – who has mocked today's ceremony as a "coronation".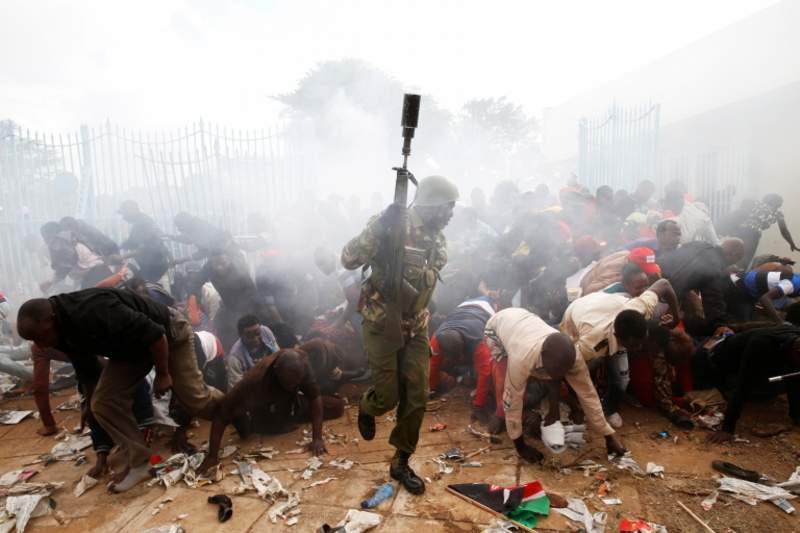 Mr Odinga, who says his rival's election was not legitimate, boycotted the re-run of the presidential election last month, which saw Mr Kenyatta officially re-elected with 98%.
However, just under 39% of voters turned out for the October poll.
The original election on 8 August was held over again after being annulled by the Supreme Court on grounds of irregularities.
Sources: Reuters, BBC, Guadian