Anthony Joshua has beaten Wladimir Klitschko in a stunning world heavyweight title fight at Wembley. Both men suffered knockdowns early in the fight before recovering to take an epic contest to the 11th round, when the British fighter came out on top.
Making the third defence of his IBF title, Joshua also became the WBA champion after recovering from the first knockdown of his career to impressively win at Wembley Stadium.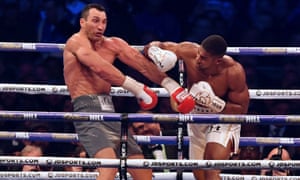 Klitschko was initially knocked down early in the fifth round but got off the canvas and had the younger man in desperate trouble in the sixth, knocking Joshua down for an eight count.
Joshua recovered, though, and after several even rounds he went on the offensive from the opening bell of the 11th. An uppercut sent Klitschko to the canvas once more and though the Ukrainian beat the count, a flurry of punches saw the referee step in and stop the fight.
JEFF POWELL'S SCORECARD 

| JOSHUA | ROUND | KLITSHCKO |
| --- | --- | --- |
| 10 | 1 | 9 |
| 10 | 2 | 9 |
| 10 | 3 | 9 |
| 9 | 4 | 10 |
| 10 | 5 | 8 |
| 9 | 6 | 10 |
| 9 | 7 | 10 |
| 9 | 8 | 10 |
| 10 | 9 | 10 |
| 9 | 10 | 10 |
| | 11 | |
| | 12 | |
|   | TOTAL |   |
Anthony Joshua will aim to retain his IBF world heavyweight title for the third time at Wembley on Saturday night against Wladimir Klitschko.
The big day is finally here, with British boxing sensation Joshua tipped for the fight of his career.
A bout which is poised to set a new UK attendance record of 90,000.
The two titans came face to face for the weigh-in on Friday afternoon, with Joshua tipping the scales 10lbs heavier than his Ukrainian opponent at 17st 12lbs 2oz; the heaviest career fight weight he has registered to date.
Sportsmail s here to bring you all the build-up, from the undercard fights, the ring walks and the main event itself.
Joshua's promoter Eddie Hearn says fight was up there with the best
He says: 'It was one of the best fights I've ever seen massive respect to both fighters – tonight's all about celebrating and respecting both fighters of the sport.'
Hearn believes the fight was one of the best fights he'd ever seen
The punch that gave Klitschko the rock of his life
Joshua's uppercut in the round 11 that rocked Klitschko
'It is really sad that I didn't do it tonight… but love and respect for you guys [the crowd],' Klitschko thanks the Wembley crowd
Joshua caught Klitschko with heavy punches
'Tyson Fury… where are you at baby?' Joshua calls out another man who beat Klitschko
Joshua has called out Tyson Fury
'I dig deep… it is what it is… London, Ukraine, Germany… thank you,' says Joshua
Joshua celebrates his win over Joshua
Deontay Wilder says fight with Joshua 'sounds so lovely'
Within minutes of Joshua beating Klitschko, Deontay Wilder says he would relish the chance to get into the ring with AJ. 'It sounds so lovely,' he says. That would certainly guarantee another 90,000 punters if it were to happen at Wembley.
Klitschko managed to get back to his feet twice after going down in the 11th
Jeff Powell's round 11 verdict as Joshua defeats Klitshcko
FROM RINGSIDE: Joshua had gone back to his corner shaking his head. But after a lecture from trainer McCracken he mounted a magficent do-or-die effort.
A right uppercut started Klitschko on the downward path to the canvas again. A second barrage dropped him for a second time. Again the older man clambered to his feet but as he took more sustained punishment on the ropes American referee David Fields called it off. It was a sensational ending to a tremendous fight.
Joshua had Klitschko down twice in round 11 before the referee stopped the fight
ANTHONY JOSHUA WINS AFTER REFEREE STOPS THE FIGHT
Joshua knocks Klitchsko down twice in round 11 to beat Wladimir Klitschko. He sent him down first in the round with a superb combination before brute force did it again and then he caught the Ukrainian between the eyes to finish it.
Referee David Fields had no choice but to stop the fight.
Jeff Powell's round 10 verdict
Klitschko had been expected to dominate the championship rounds. Joshua challenged that theory with another early burst. But he was missing a lot now and was received a second warning for hitting low as his frustration grew with Klitschko's jab
Joshua 9-10 Klitschko
Referee David Fields separates the two heavyweights
Joshua walks into a big right hand and then fails to find his range. Bellew at ringside says he's told Joshua to find his rhythm and press.
Jeff Powell's round nine verdict
Remarkably the 41-year-old was moving more fluently on his toes. The crowd were roaring for every Joshua swing but by no means all were landing.
Even so, enough got through to give him a share of my first even round.
Joshua 10-10 Klitschko
The pair tussle as each of them attempt to gain an upper hand
Jeff Powell's round eight verdict
Joshua needed to find a second wind and he showed signs of recovery in the eighth. Klitschko's left eye had been damaged earlier and was swelling now. But after more lefts from Klitschko the Englishman's left eye was showing signs of wear and tear.
Joshua 9-10 Klitschko
Both boxers stand off as the eighth round finishes
Heads of both boxers coming closer again. This has flowed quite well but both are started to come together that bit more than before. Joshua finishes the round as the aggressor.
Jeff Powell's round seven verdict
Klitschko had been accused of being the jabber and grabber and jabber but it was Joshua who was holding – and gasping – now as Klitschko took control with his experience and ring generalship.
Joshua 9-10 Klitschko
Both boxers embrace as the fight continues
Jeff Powell's round six verdict
Joshua looked troubled and alarmed at the start of the sixth. His instincts were correct. Even with a nick on his cheek. Klitschko looked the stronger and proved it with a huge right which dropped him onto the seat of his pants, then his knees. Joshua climbed upright but the Ukrainian was the hunter now.
Joshua 9-10 Klitschko
Joshua then went down in the sixth round
Klitschko has Joshua down but the Brit manages somehow to carry on as he rocked.
Jeff Powell's round five verdict
Now came the Joshua everyone loves. A barn-storming onslaught which lowered Klitschko to his knees for an eight count. But the old man wasn't done yet. The round took on epic proportions as Klitschko came back with clubbing blows from both fists which had Joshua reeling on the rope. It was the younger man who looked exhausted as the round ended, even though the knock down was in the bank
Joshua 10-8 Klitschko 
Joshua had Klitschko down in the fifth round
Joshua has Klitschko down with a strong left hand. The Ukrainian has a busted eye but he fights back. Both exchanging heavy blows. Right hand from Klitschko connected as they entered the last minute of the fifth round. Both finish the round grappling.
Joshua knocked Klitschko to the ground in round five
Jeff Powell's round four verdict
Klitschko upped the ante at the start of the fourth, connecting with a two-fisted attack early on. Although Joshua steadied himself he was having difficulty landing cleanly and was out-boxed for the first time.
Joshua 9-10 Klitschko
Big right hand from Joshua pushed Klitschko back. Both starting to come together that bit more. The Ukrainian dropping his guard that bit more when they are toe-to-toe.
Jeff Powell's round three verdict
Klitschko appeared to be looking to extend Joshua into his longest fight to date and he needed all those expert defensive skills to ward off the first really two-fisted charge from Joshua. But he was not entirely passive, even though Joshua extended his lead.
Joshua 10-9 Klitschko
Joshua fires from the hip to try and land on the challenger
Both boxers quite far apart as the third round comes to a close. Joshua connecting off the back foot as Klitschko jumps back to dodge.
Jeff Powell's round two verdict
Klitschko was soon his feet as the bell rang for the start of the second, with Joshua still seated receiving instructions. Once they got going it was still a question of the jabs. Joshua double-upped with his left and probably edged the round but the only big right to land thus far came from Klitschko.
Joshua 10-9 Klitschko
Joshua was on the attack but had to retreat
Joshua standing off a bit more. Klitschko bouncing left to right. Joshua moving back to make space for shots but he fails to land. Ukrainian manages to connect with right hand.
Jeff Powell's round one verdict
Surprisingly, Joshua had weighed in heavier than Klitschko, by a full ten pounds. Presumably the older man was looking for more speed but although the first feelers came from his left hand the more meaningful of the early punches came from Joshua in flurries. A reasonable start for AJ.
Joshua 10-9 Klitschko
Klitschko manages to dodge a left hand by Joshua
Joshua connects several times as Klitschko tries to fire back at the former Olympian. The Ukrainian dodged out of the way enough times not to get hurt. Joshua moved closer as the round went on.
The bell sounds…
Twelve rounds for the world heavyweight championship…
Michael Buffers gets the fight started at Wembley
Joshua minutes before his fight with Klitschko
The Ukrainian in the zone
Here we go then… 12 rounds of boxing…
David Fields from the USA to referee this one.
Buffer takes his place… 'For the millions watching around the world. Ladies and gentleman… let's get ready to rumble!'
Anthony Joshua during his ring walk
Joshua appears calm as he walks to the ring
How Joshua's team watched him walk out to the ring…
The tale of the tape
The letters 'AJ' were set on fire as Joshua walked to the ring
Now for Anthony Joshua…
'And now coming to the ring the defending world champion 'AJ' Anthony Joshua,' bellows Buffer. Joshua appears looking calm as videos of his knockouts and sparring work are played on the big screen.
'Welcome to the lion's den,' Joshua's voice says over the PA system. 'Oooh Anthony Joshua,' the majority of the 90,000 supporters inside Wembley chant.
Klitschko inside the ring ahead of his fight against Joshua
Wembley lit up ahead of tonight's heavyweight clash
Fireworks and smoke illuminated the national football stadium
Michael Buffer has the mic…
'Let's get this party started! Now making his entrance to the ring… the challenger Dr Steelhammer… Wladimir Klitschko…'
Announcer Michael Buffer calls Klitschko to the ring at Wembley
Joshua's friend Rio Ferdinand takes his seat at ringside
Neil Diamond's Sweet Caroline being belted out at Wembley… join in here if you like…
Arnold Schwarzenegger is at Wembley… a man who loves his boxing
Arnold Schwarzenegger looks excited to be at Wembley… the big man loves boxing
And we get ever closer to the fight…
Deontay Wilder (perhaps Joshua's next opponent) is pleased to be at Wembley
Deontay Wilder, the Bronze Bomber, is as excited as anyone else watching around the world tonight. The difference is that he may be getting into the ring with Joshua at some point in the near future.
As it stands, he's just happy to be part of it all. 'It is amazing right here,' he says. 'Britain has some of the greatest fighters in the world.'
Klitschko puts the final touches to his preparation
Joshua is primed…
The most recent picture of Joshua. This has just been posted on his Instagram page. He is ready.
Joshua looking primed and ready for action
One final warm up for Joshua… the stage is set
SCOTT QUIGG WINS
Major victory for Scott Quigg over Viorel Simion. He's one step closer to a IBF title fight against Lee Selby. Great to see that one go the distance.
Quigg battered Simion but the Romanian kept coming back. 'If you can bully the bully,' he says. 'When he's on the back foot he can't do anything.'
Quigg certainly stopped him fighting. Eddie Hearn says 'Scott is ready for that fight [against Selby] now.'
Scott Quigg (right) victorious against Viorel Simion
The man who wants to fight Joshua next has arrived… Deontay Wilder
Light's fading… some picture by Sportsmail's Kevin Quigley
It's almost time for Joshua vs Klitschko
These aren't exactly familiar surroundings for Klitschko… remember Monte Barrett?
Wladimir Klitschko will make only his second appearance on British soil this evening. His only other appearance? 17 years ago.
The Ukrainian stopped British heavyweight Monte Barrett in the seventh round at the London Arena, after knocking him down five times during the bout.
The result was in the middle of Klitschko's prominent rise to the top of the division.
Wladamir Klitschko floors Monte Barrett during his only other appearance in the UK
Everyone has weighed in with their own predictions for the fight.
But that is the beauty of boxing, with all the training, legwork (and armwork, I guess), all the hours in the gym… one punch can reduce you to a heap on the canvas.
But some predictions carry a little more weight than others – and in this case literally.
The IBF king believes he will best his opponent in round seven.
Joshua was joined by Chelsea goalkeeper Thibaut Courtois earlier this evening
The clock ticks down… what an atmosphere inside Wembley
Here is a complete rundown, compiled by Sportsmail, of tonight's bout.
Everything you need to know, your one-stop shop to all things Anthony Joshua and Wladimir Klitschko's fight at Wembley Stadium.
No stone left unturned, here.
Joshua gets his knuckles taped up
Anthony Joshua is a man-mountain and consumes a mountain of food — that's 4,500 to 5,000 calories a day during training — to fuel his 6ft 6in, 17st 12lb world champion frame.
On Saturday the IBF heavyweight king takes on Wladimir Klitschko, hoping to add the IBO and WBA belts to his collection.
Ahead of the Wembley showdown, Sportsmail's Riath Al-Samarrai spoke to his nutritionist Mark Ellison to learn more.
Anthony Joshua's diet and training plan in numbers
Another insightful and analytical piece from Sportsmail's boxing correspondent Jeff Powell (at ringside)
With so much hype surrounding these two heavyweight bruisers, just how does it compare to past bouts in the division on British soil?
The night is huge but in terms of excitement, impact or historical importance will it oust one of Jeff's top six fights involving British heavyweights down the years?
How does Klitschko v Joshua really compare to the fights that have gone before?
Henry Cooper knocked Cassius Clay to the canvas after the fabled 'Enery's 'Ammer landed flush during the fourth
Anthony Joshua says there are no nerves ahead of tonight's fight
'What I could predict is an atmosphere like none before… and round-by-round I'll get the victory,' Joshua says. Just like Klitschko he's incredibly calm tonight.
Joshua talks to the cameras ahead of tonight's fight
Any last minute movement in the betting?
So, what are the bookies saying?
It looks as if for a Joshua win you are probably looking at 2/5 or 4/9.
For a Klitschko win you are looking closer to 21/10 or 9/4.
So Joshua the outright favourite with the bookmakers.
Which round? Joshua in round five or six are the shortest odds for a knockout at around 6/1.
Wladimir Klitschko to knock Joshua out in the first round? 80/1. What a turn up that would be.
The betting market has seen a slight change over the day
More than £100million is expected to be bet worldwide on Saturday night's world heavyweight championship superfight between Anthony Joshua and Wladimir Klitschko at Wembley Stadium.
On Friday night fans were still clamouring to be part of the British record crowd of 90,000, with the best tickets changing hands for thousands of pounds on resale websites.
Millions more will watch on television and around £20million is expected to be wagered on the fight in the UK alone.
More from Sportsmail's Jeff Powell.
Wembley showdown is expected to bring in more than £100million
Big love for AJ from this fella in the Wembley crowd
One man reveals his love for Anthony Joshua
Some excellent writing by Riath Al-Samarrai here on Joshua's background.
John Oliver knew the giant could punch when he heard a scream one evening. Sean Murphy was bent over double, swearing at the canvas as he tried to pull the pad off his hand.
It was swelling rapidly and the novice responsible was apologising over and again as he followed his trainer out of the ring at Finchley Amateur Boxing Club.
The big teenager had just joined and was only a couple of sessions in by then.
Murphy and Oliver, two respected trainers, had been willing to take him in when he rocked up to their corner of Barnet in 2007, a tearaway with a difficult past and a promise that he would commit to something.
A must-read ahead of tonight's showdown.
Joshua has worked to where he has got to in the boxing ring
Fury wants 'biggest fight in British boxing history'
Tyson Fury has taken to his Instagram account to call out Anthony Joshua ahead of his fight with Wladimir Klitschko (WARNING: video has bad language).
The heavyweight wants Joshua to win so the pair can face off in a heavyweight bout of their own.
'Knock him spark out. I wish you all the luck in the world. Let's make the biggest fight in British boxing history happen.
'The real biggest fight. You know how it is. Between the gypsy king and AJ Anthony Joshua.
'Get through this tonight and let's do it.'
Tyson Fury wants the biggest fight in British boxing history against Joshua
Everyone has been weighing in on who will win, what round, method of victory. Now it is time for the real experts to have their say.
People who know what it is like first hand to step into that ring and go toe-to-toe with the world's best.
Seems a pretty overwhelming result…
It is almost impossible to pick a winner tonight
LUKE CAMPBELL WINS
Very comfortable from Luke Campbell as he beats Perez. Campbell one step closer to that world title. That was all very easy though. Very much routine fight before the 9th round stoppage. The man from Hull goes from strength to strength.
Campbell wants Jorge Linares. Eddie Hearn confirms Linares is the man he has lined up for Campbell.
Linares says: 'Whenever you want.'
Luke Campbell comes through to beat Darleys Perez
Ever wondered what it would be like to step into the ring with one of the biggest, quickest and most powerful fighters in the world?
Well here is just a glimmer of insight into some of AJ's 18 opponents who he knocked out.
Some do not make for pretty reading…
Dillian Whyte felt the full force of an Anthony Joshua right hand back in 2015
First up… what do you do before you fight a 41-year-old Ukranian?
Do you have any rituals before you step out in front of 90,000 people and go toe-to-toe with a 6ft 6ins heavyweight colossus?
A walk through Primrose Hill? Yeah, same.
Anthony Joshua and his entourage made their way through one of London's most scenic parks ahead of the trip to the trip to the stadium.
Anthony Joshua posted this picture of him on Twitter earlier today
Former heavyweight champion Evander Holyfield meets Joshua and Klitschko
It's no surprise that this fight has got the whole world of boxing talking. Former heavyweight champion Evander Holyfield made sure he was at Wembley to greet both fighters as they arrived at the stadium.
Joshua is greeted by Evander Holyfield
Seconds later Holyfield met Klitschko
Tonight's fight is tough to call but if you fancy a flutter…
If you fancy a punt tonight it might be worth heading over to Genting Bet. They have Joshua tipped for greatness no matter what happens. Bet responsibly.
Genting Bet are tipping Joshua for the top regardless of tonight's match
Klitschko refuses to give his prediction…
As you'd expect, Klitschko is giving nothing away. He's just been asked what the project on that USB stick he's got was. 'I'm not telling you,' he says. He's an expert at all of this. He appears very calm just as he has appeared in countless fights before.
Klitschko is giving nothing away ahead of tonight's fight
Joshua arriving at Wembley a little earlier
Good evening and welcome to Sportsmail's coverage of Joshua vs Klitschko
It's set to be a fantastic night of boxing. Anthony Joshua vs Wladimir Klitschko is one of those fights that captures the imagination. Joshua has his career ahead of him. He's going in the right direction. Wladimir Klitschko is the old pro. The one who went undefeated for so long.
This will be a tough test for Joshua. He may not get through it. Ninety thousands fans are packing into Wembley as we speak. The atmosphere is building nicely.
First, we have the rest of the undercard fights. Luke Campbell is taking on Darleys Perez. I'll bring you the conclusion to that fight as well as all of the build-up.
Anthony Joshua and Wladimir Klitschko have arrived at Wembley
Source: Twitter, Daily mail, Guardian, Telegraph