France's national holiday turned bloody and violent Thursday night in the southern city of Nice, as a truck drove through crowds of Bastille Day revelers and gunmen attacked several tourist haunts throughout the city.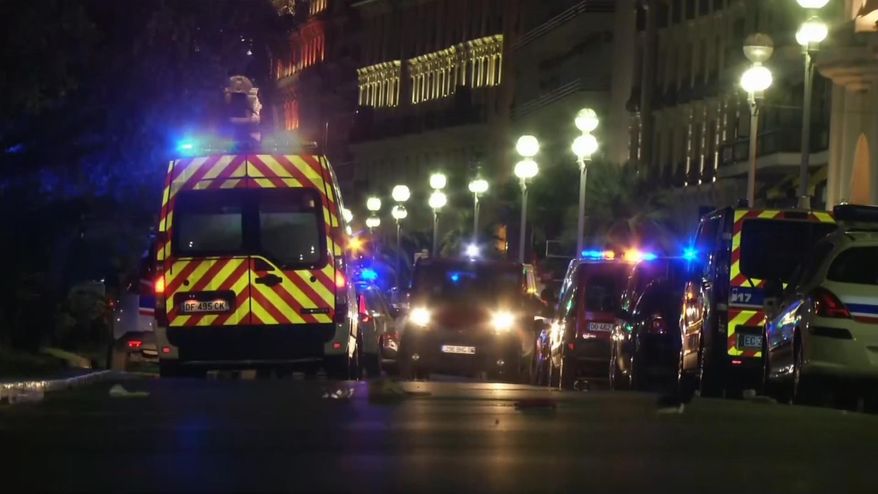 In this video grab taken Thursday July 14, 2016, ambulances and Police cars are seen after a truck drove on to the sidewalk and plowed through a crowd of revelers whod gathered to watch the fireworks in the French resort city of Nice. Officials and eyewitnesses described as a deliberate attack. There appeared to be many casualties. (BFMTV via AP)
The French Interior Ministry told reporters that at least 60 people were killed, and reports from Nice described a lengthy drive on pavements, not merely a crash into a building.
Sebastian Humbert, prefect for the Alpes-Martime area said: "A truck rammed into the crowd over a long distance, which explains this extremely heavy toll."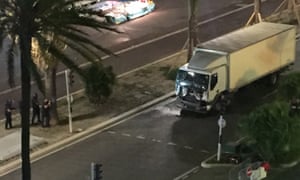 The driver was reported killed in an ensuing gunfight but a second gunman escaped. There were also reports of attacks on a downtown Nice hotel and its attached restaurant.
A manhunt was in progress early Friday local time, as the national police force told Nice residents that "Emergency operation in progress. Keep calm and avoid downtown area. Follow the official accounts to be informed."
 Wassim Bouhlel told the Associated Press in Nice that he saw a truck ram through the crowd before the driver exited wielding a gun and firing at random.
Francois Hollande heads to crisis centre